Posted on: 28 February 2011
By: Georg Dürr
The working session of Autumn 2011 took place from October 14 to October 16, 2011 in Stuttgart. The theme of the meeting was  CO2 trade and its effects on sustainable land use and small holder agriculture.
Below we enclose the papers presented during the meeting, and some further documents which might be of interest.
Presentations of the meeting

Introductory presentation by Felix Nickel: Hintergrund, EU-Emissionshandel, Klimaschutzprojekte

Presentation by Reinhard Pfeiffer: CO2 mitigation – AFOLU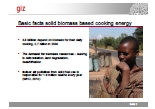 Presentation by Marlis Kees: Carbon Markets for Improved Cooking Stoves
Further documents, referred to during out discussions:
Deutsche Bank research: Mitigating climate change through agriculture
Meridian Institute: Agriculture and Climate Change: a scoping report: 1. full report, 2. executive summary
Accompanying  documents
The website of Carbonwatch contains many interesting contributions and readers about  carbon trade: http://www.carbontradewatch.org/
Also interesting are several comments and further articles published in taz on the debate about Yasuni, including a comment by Dirk Niebel:
About the same issue, there are further articles in taz:
If you have further documents which may be of interest please sent them to thomas.becker@agrecol.de .